Aubrey Morgan O'Day
(born February 11, 1984) is an American singer, dancer, actress, songwriter, fashion designer, and former member of the girl group Danity Kane. On an October 2008 episode of the reality show Making the Band, O'Day was declared no longer a member of the girl group.
O'Day has also modeled for magazines such as Blender and Playboy, and has acted on Broadway in Hairspray.
Early life
O'Day developed a passion for entertaining at age five, after performing on stage for the first time. "I lived on the stage, and even at six, slept behind the seats of the theatre," she stated in an interview. According to her mother, when O'Day was four, she was at a performance of The Nutcracker and started to cry. Her mother asked her what was wrong and O'Day replied, "I'm sad that I'm sitting here and not up on stage." O'Day recalls that moment as the one in which she "officially" realized her love for entertainment.

O'Day played lead characters in various musical productions,
including Dorothy in The Wizard of Oz, Carmen in Fame, Sandy in Grease, Liesl in The Sound of Music, Tzeitel in Fiddler on the Roof, and Mimi in Rent. She also appeared in Annie. O'Day's childhood leaned heavily toward auditions and acting gigs more than school. The Notorious B.I.G. and Sean "Puffy" Combs were her primary influences as a child.

O'Day attended La Quinta High School (La Quinta, California) in the early 2000s. She later majored in political science and drama at the University of California, Irvine, and was a member of the Alpha Chi Omega sorority.
Career



2004–05: Making the Band 3




O'Day was discovered in 2004 on the MTV reality show Making the Band 3, founded by Sean "Diddy" Combs, and emerged as the show's breakout star. During Season 2 of Making the Band 3 while the competition was still ongoing, Blender magazine contacted O'Day to pose for their September 2005 issue. The magazine described her as the contestant "who bared calm resolve and tanned hip bones in beating out almost 10,000 girls for the chance at singing and strutting in a P. Diddy–steered girl group". O'Day expressed anxiety about competing to be in the group.
"I've been in the 'cut' situation several times," she stated. "It's hard to stand in a room and know that the dream I want is all in [Combs's] hands." O'Day had dropped out of college in order to participate in the competition. She had been thinking of attending Columbia Law.

After seeing her dance, Combs was convinced that O'Day had "Black in her family" and further expressed this sentiment after watching her sing a version of "At Last" at a club during Season 1 of the show. This, along with what viewers saw as natural charisma, helped endear her to become a consistent favorite among judges and fans. Former Backstreet Boys and 'N Sync manager Johnny Wright, who served as one of the judges on the show, stated from her first audition in Los Angeles they knew that she was "a star". "It's extreme," O'Day relayed of the competition. "There's a lot of 'I love to be in the spotlight' types—including myself." In response to being told that Combs wanted the type of stars who were stars when they were age 2, O'Day stated, "Well, I was Aubrey when I was 2. A diva from the beginning."



2006–08: Danity Kane



O'Day was eventually chosen to be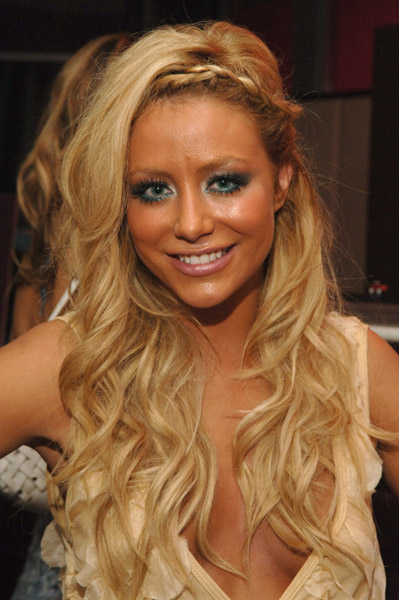 in the group, and was the first member included. The band became known as Danity Kane, and their first album debuted on August 22, 2006, at #1 on the Billboard 200 charts. The group was the opening act for Christina Aguilera on the U.S. leg of her Back to Basics Tour with the Pussycat Dolls.

O'Day's fame and physical features found appealing by magazines helped her broaden her career beyond the group. In addition to other musical projects, she posed for several "sexy" magazine spreads. On the August 28, 2008 episode of Making the Band, due to being consistently frustrated with O'Day's "oversexed" new image, Combs called O'Day "one of the worst dancers" in Danity Kane. He told O'Day that she no longer looked like the girl he signed and that she used to be one of the best. Combs bluntly accused O'Day of trying to expand her fame at the expense of the entire group, and that she liked flaunting her breasts and wearing big hair — referring to an incident where she had rubbed her cleavage on the arm of a television host. Furious, Combs asked himself on television why he was keeping O'Day in the group.

On the October 7, 2008 episode of Making the Band, after continued debate with O'Da
y about the well-being of the group, Combs declared O'Day no longer a member of Danity Kane. An official announcement, however, had not been made from Bad Boy Records. When asked by Boston Herald whether she was still in the group, O'Day was reluctant to answer and stated, "I can't comment on anything, I'm sorry."

Speculation arose that Combs firing O'Day was a ratings ploy and that he had no intention of truly dismissing her. When discussing her career, O'Day would still refer to herself as a "member of a girl band" and "the official party girl of Danity Kane". On the October 14, 2008 episode of Making the Band, however, O'Day's departure from the group was confirmed, as well as fellow bandmate and then-best friend D. Woods. In the live section of the episode, Combs explained that the reason he let O'Day go was that she was not the same person he signed, that the fame had changed her. When O'Day came on to reply, she stated: "I would rather be hated every damn day of my life for being real than loved for being something I'm not." In a backstage interview before the finale, she said:


Tonight is a representation of the end of a chapter in my life; it's not the end of the book. I will do everything possible to make my mark on this industry, and Danity Kane and [Combs] provided me with this amazing opportunity to go out and really touch people's hearts. I think the way that we were able to inspire people was something that I will never be able to achieve in that way again in my life.

MTV News gauged fan reactions to the dismissals of O'Day and Woods. Fans left impassioned, long and detailed comments on the MTV News site about their discontent regarding the group's breakup. The 2009 season of Making the Band was expected to include new members auditioning as "replacements" for O'Day and Woods in Danity Kane, but instead showed the official end of the group. The complete breakup of the group was originally thought to be the result of O'Day and Woods, along with group member Shannon Bex, declining the offer to return to the series and the group. This was later argued by O'Day, who stated that while she was unsure if Woods was asked back, she herself was not asked to return. O'Day said that if offered, she would have returned and is not against returning. She was "officially" released from her Bad Boy Records contract by Combs in the April 16, 2009 episode of Making the Band.

In the April 23, 2009 finale of the show, O'Day returned with three former members of the
group to clear up any misconceptions about the group's breakup. She said that she has forgiven being released from the group, and people who blamed her for the group's demise. Combs said that if he ever puts the group back together, O'Day and the group's other four members would be returning as Danity Kane.



2008–present: Broadway, and acting career



O'Day landed the role of Amber Von Tussle in the Broadway musical Hairspray on July 16, 2008. She appeared in the 2009 comedy American High School costarring Nikki Ziering, and is currently reading scripts for consideration in starring in feature films. Recently, she has been pursuing a solo music career, and has been in the studio with Shanell Woodgette, as well as Grammy Award-winning producer Maestro, recording a remastered version of Sharam's remix hit "Party All the Time". She released a track titled "Never Fallin", and also joined the cast of Jerry Mitchell's musical Peepshow in the role of "Peep Diva" at the Planet Hollywood Resort & Casino in Las Vegas, Nevada from September 2009 to late December 2009. Additionally, O'Day was featured on Donnie Wahlberg single "I Got It."


O'Day will be starring in her own reality series on the Oxygen Network, to premiere in 2011.
Other work

In 2006, O'Day ranked #86 on Maxim's Hot 100 list, #81 on Blender's 100 Hottest People list, and posed for the magazines. She walked the catwalk at Heatherette's Fall 2007 runway show at Mercedes-Benz Fashion Week held on February 6, and recorded a song with R&B singer Cupid written and produced by D. Harold; Mischke, and T. Thomas, whose title is "Do Yo Dance" and was the new single from Cupid's album Time For A Change.

In January 2008, O'Day briefly became the face of Famous Stars and Straps. She later made a cameo appearance in Estelle's music video for "Pretty Please" in August 2008. Further utilizing her success, she started her own clothing line called Heart on My Sleeve, which features T-shirts and accessories available only online. She posed topless for men's magazine Complex, their November 2008 issue. The publication stated, "With All Due Respect to the other girls in Danity Kane, it's easy to see why [Combs] built his group around Aubrey O'Day. Simply put, Aubrey is that chick: the stunner who attracts paparazzi and Broadway producers alike, and the talent least likely to fall into post-reality-show abyss." The magazine additionally commented on the animosity O'Day receives from several outlets, such as blog sites, as well as from message board fans, who have come to despise the attention she attracts from the media and the curren
t image she has crafted of herself.

In late 2008, O'Day made a guest appearance on the reality show 50 Cent: The Money and the Power. She later agreed to be the covergirl for Playboy for the March 2009 issue. Additionally, she has been featured on the covers of Jadore, Image, Palm Springs Life, King, Right On!, Dub and Envy. She has done features for GQ, In Touch Weekly and Us Weekly.

On the April 23, 2009 finale of Making the Band, O'Day revealed that she will have her own reality television show for which she is filming in the spring of 2010. The show is entitled "The Aubrey O'Day Project" and is expected to premiere at the beginning of 2011 on the Oxygen Network.



Personal life




After graduating from high school and deciding to go to college, O'Day spent a semester at sea where she developed a passion for helping charities. She worked with service organizations while touring in different countries, as well as refugee centers, orphanages, and mostly with children with AIDS. She volunteered as a Big Sister to an organization called Pink Project, and helped victims of the Hurricane Katrina devastation. Motivated by her passion for charity, O'Day soon created her own organization, called F*A*N (Fighting Aids Now). The charity's goal is to give therapy and art to children in hospitals.

While competing to be in the band, O'Day formed a strong connection with fellow contestant Aundrea Fimbres. The two made it through two seasons together, and gained a large and loyal fanbase before Combs chose them to be in the group, O'Day first and Fimbres last. Viewers named the two "the AUs" and "Aubrea" (portmanteux of their first names put together), and O'Day declared Fimbres her best friend in the Season 2 finale of the series. O'Day's friendship with Fimbres, however, later became distant. However as of 2010, O'Day and Fimbres have reunited on numerous occasions and have claimed to always have been friends. She also has been best friends with another Making The Band 3 contestant Melissa Molinaro whom appeared with Aubrey on the MTV Show Exposed and were last seen on screen together in the VH1 pilot The Aubrey O'Day Show which wasn't picked up. On the show they had an onscreen falling out and seem to no longer be friends.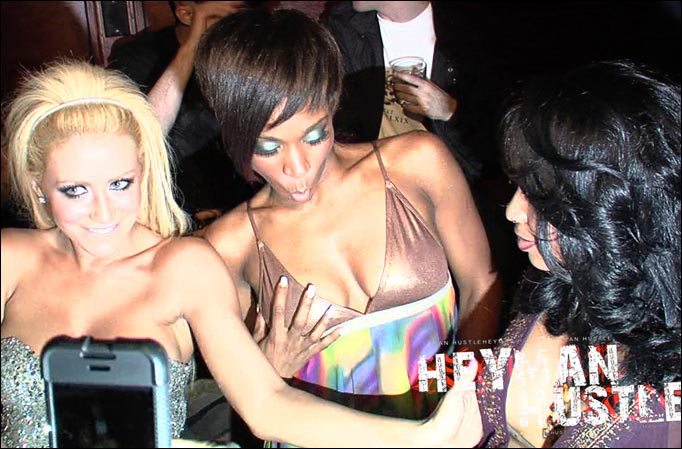 On The Wendy Williams Show on August 12, 2008, O'Day stated that she previously dated DJ Cassidy. She dispelled rumors of ever having plastic surgery or dating boss Sean Combs. In addition, she declared then-bandmate D. Woods her best friend and porn legend Jenna Jameson one of her good friends. In September 2008, she told Complex that she likes to watch porn as a hobby and that her favorite porn star is Jameson.


In an August 2008 interview with Broadway.com, O'Day stated she was increasingly irritated with people pigeonholing her sexuality; stating that she looks for "incredible passion and honest love" and not at gender. On December 15, 2008, Fox News reported that O'Day attended a party accompanied with her girlfriend/lover, according to an anonymous friend in attendance. When questioned by UsMagazine.com regarding the gay rumors, O'Day did not confirm or deny the speculation about her sexuality, and once again stated that she could not say "one way or another" what her sexual preference is at this point in her life. In 2009, while on the show Chelsea Lately, when asked about being bisexual, she replied, "Generally, I don't like to label myself... I want to find someone I'm passionate about, and I don't want to limit myself to one segment of the population."

During the 2008 presidential election campaign in the United States, O'Day supported Barack Obama for President. Earlier, before her departure from the group, she got Danity Kane's bar codes from their albums tattooed on the back of her neck.

She recently appeared in Silent Library



Discography





Albums



* TBA (2011)



Singles



* "Automatic" (2010)